Hello all,
Before I worked at VMware I was a professional services guy.  I have helped customers migrate to new file servers, new arrays, sometimes even old arrays.  The best tool I ever found was Secure Copy.  It was very fast, and had lots of features.  It is still around, and has even more features but it is ridiculously expensive.  The most problematic tool I used in those days was Robocopy.
So when I started working at DataGravity, and while we are selling via partners, we are designing it to be a very easy to install and configure array.  So that means customers are installing them on their own.  Which is why I started the File Migration series.  Copying lots of files to an array is not always as easy as it sounds.  As part of the series I had to find a new favorite tool.  The 90 day 1 server NFR of Secure Copy I tried to buy was 800 CAD.  No way was I going to pay that for an NFR.  In fact that left me feeling like they were trying to take advantage of me or something. Update: in the process of checking out what I wrote it looks like the 90 day price has dropped to around 400$ CAD.  I feel so much better.
The tool I settled on and am very happy with is SyncBackPro.  It is not just a file migration tool but also does backup which is pretty handy.  It has a lot of the Robocopy and Secure Copy features but has some useful ones of it's own.  Other then knowing I like it (and use it a lot) and it is working great - there is a number of cool things to know.
Email copies of reports
Syslog forwarding
FTP support - very cool but not sure what I would use it for!
Amazon cloud support - in case you need a temporary holding place!
Deals with file / folder ACL nicely
Deals with deleted user in folder / file owner (meaning on destination you see a SID and same is seen on source)
Detailed reporting
Very detailed configuration option possible but also has an Easy mode
Can be used for mirroring or synchronizing - which is very important for big migrations.
Copies locked or open files
Things to know that are important!
By default not all ACL information is migrated so make sure you enable it in the Preferences of the program or the jobs. Below you can see a screenshot of a job where I am using the red arrows to highlight what you should make sure is selected (this comes from the 2BrightSparks in this KB article).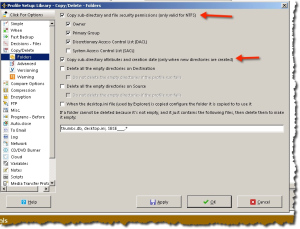 In version 6 there was an issue with how SyncBackPro would copy files and folders that were owned by a user that had been deleted in AD.  This is fixed in v7.  Current version is 7.0.14.0.
This tool is not as fast as Secure Copy.  But it is fast enough.  After all if you do this right the migration is done over a multiple of days.  Your performance will vary widely depending on file type and all that but as an example my last copy was 16,920 files and 136,982,688.21 KB and it was copied in 1 hour and 47 minutes.
By default the System Access Control List (SACL) feature is not enabled but if you have enabled File Auditing you should enable this so that your file audit info is in fact migrated with the files.  You can see the feature to be enabled above in the screenshot.
This is just a quick note to say that this is the tool I have been using to migrate files onto my DataGravity array and it works pretty darn good. And guess what?  It only costs 68.34 CAD$ or 54.94 US$.  Find it in the store here.  Considering the things you can do with this tool - migrations, and backups to cloud / DVD / FTP / CIFS it is quite a good investment.
If you think I should do an install / configure thing let me know.  But it is pretty simple and if you remember the thing above you will be good.
Thanks for checking out the article and have a great weekend!
Update:
6/19/15 - 08:12 -

Important note

- this tool does not copy / migrate the last access time, nor are they willing to add it in the short term.  If this is important to you - do not use this tool.  Check out ViceVersa instead.  Currently they have a patch that does copy last access time and it will be GA very shortly. I am now using primarily ViceVersa.
4/8/15 - 11:44 - added link to article on permissions not copied.
11/27/14 - 09:14 - added the comment above suggesting to enable SACL copying if you have enabled file auditing.
11/25/14 09:29 - Want to learn more SACL vs. DACL check this out.
Michael
=== END ===